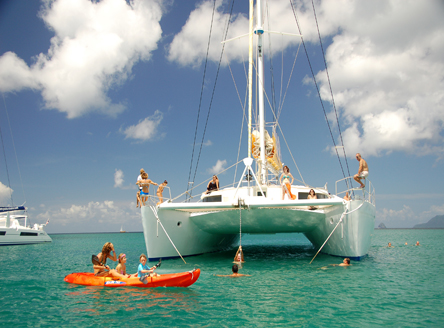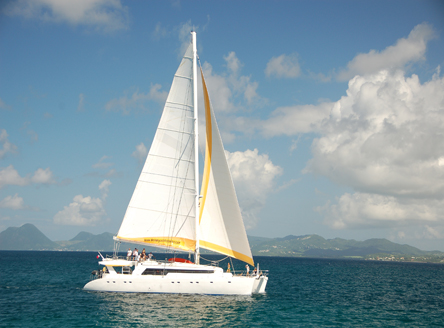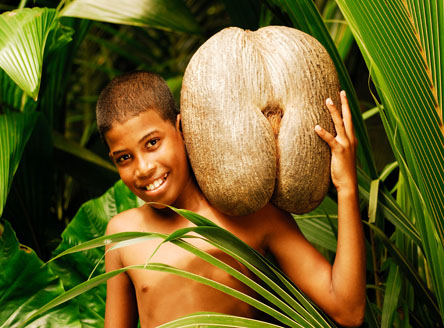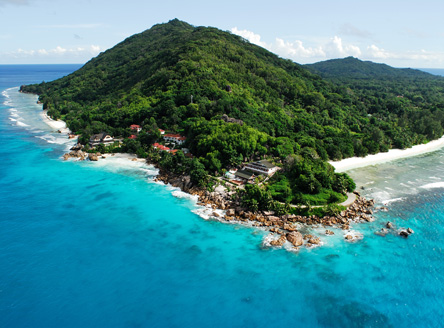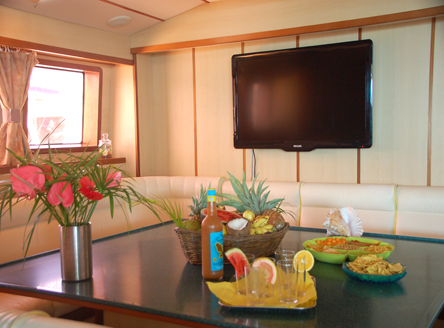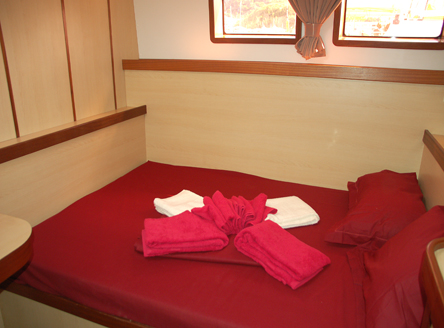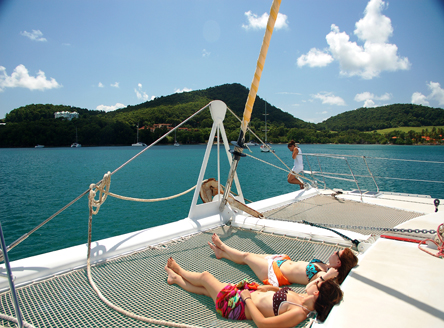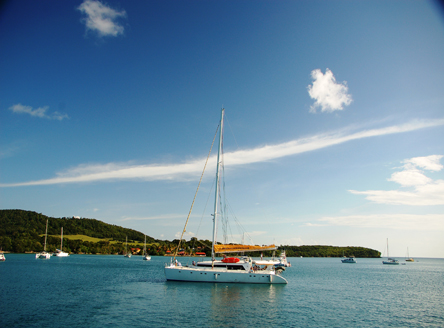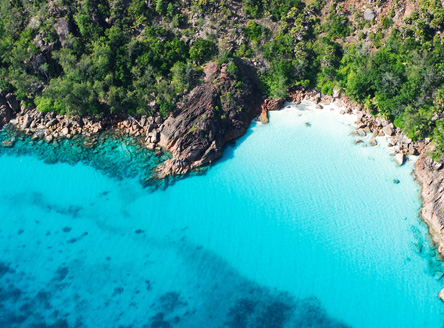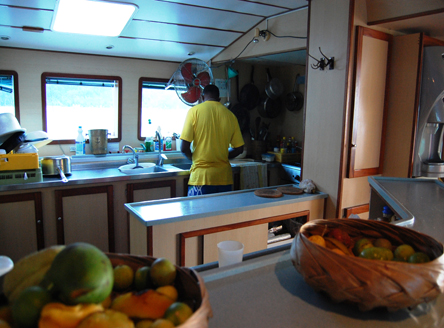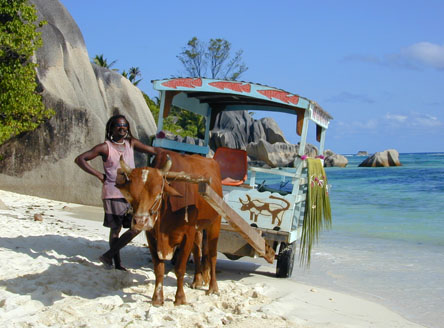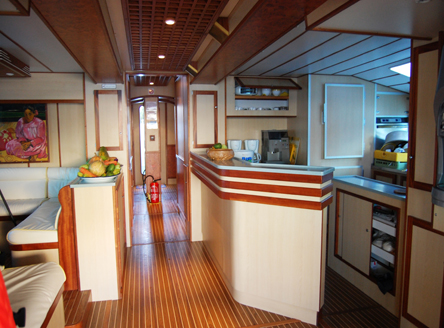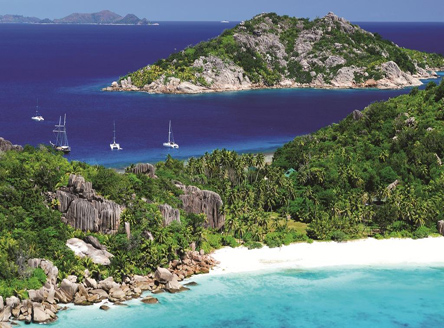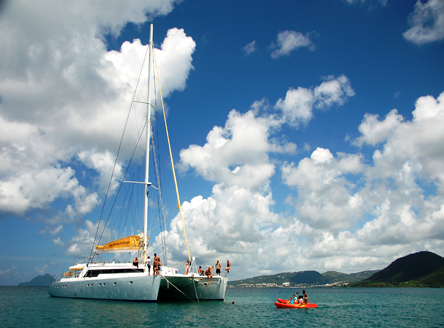 'Praslin Dream' Catamaran Cruise
8 day (7 night) Catamaran cruise
- departs and finishes at Mahé Island
Day 1: Mahé – St. Anne Marine Park
Boarding in Mahé late morning. Anchorage for the night at Sainte Anne Marine Park.
Day 2: St. Anne Marine Park – Cocos Island - La Digue
Visit to the Sainte Anne Marine Park islands, a beautiful spot to do snorkelling. After lunch cruise to Cocos Island which is made of large rocks with strange regular stripes carved by the sea. Cocos Island is a beautiful sight with a great harmony of shapes and colours. Under the sea, the vision is equally attractive with thousands of fishes for unforgettable snorkelling. Anchorage in front of the picturesque harbour of La Digue Island.
Day 3: La Digue
Rent a bike at the jetty and then have a leisurely exploration of the quiet and beautiful island of La Digue. With its tracks winding under tall palm trees, houses with roofs of palm leaves, small copra factories, fine white sandy beaches and large polished rocks, La Digue is one of the most beautiful island in the Seychelles. There are only a few cars on la Digue - otherwise it's mostly bicycles or carts drawn by oxen. Horse riding is also possible. Anchorage overnight in La Digue harbour.
Day 4: La Digue – Cousin – Baie St. Anne (Praslin)
Visit to Cousin Island. This has been a nature reserve since 1968 and includes giant tortoises as well as a bird sanctuary with rare species. Lunch on board. Afternoon in Praslin for visit to the Vallée de Mai, a UNESCO World heritage site. A walk here amongst the giant palms is enchanting and this is home of the enormous palm, the Coco de Mer (40 metres tall) and it's giant nut - the largest seed in the world in fact. Anchorage in Baie St. Anne.
Day 5: Baie St. Anne – Grande Soeur – Curieuse or Anse Petite Cour (Praslin)
Grande Soeur. Barbecue on the beach, one of the most beautiful in Seychelles. Take a 40 min walk to discover the island, water sports and relaxation. Anchorage by Curieuse Island or Anse Petite Cour for the night.
Day 6: Curieuse – Saint Pierre – Anse Volbert or Anse Lazio (Praslin)
Curieuse. This island is part of the Marine National Park, more than a hundred tortoises live here. After lunch, Saint Pierre islet, a mass of rounded rocks crowned with a clump of tall palms swaying gently in the wind: typical and superb scenery of Seychelles photographed on countless occasions and printed a million times in tourism magazines! Excellent spot for snorkelling with magnificent underwater scenery. Anchorage for the night in Anse Volbert or Anse Lazio, Praslin.
Day 7: Anse Volbert or Anse Lazio (Praslin) - Mahé
Snorkelling, swimming and water sport activities on the beautiful beaches of Praslin. Return to Mahé in the afternoon.
Day 8: Mahé
Early morning disembarkation.
Please note: cruise itineraries are subject to wind and weather conditions and subject to change without notice; the Captain's decision is final. Images shown do not necessarily reflect the actual yacht type used for this cruise and are subject to change.
Price Guide
This 8 day/7 night cruise above is from £1,849 per person, based on Full Board. Price includes flights from London & all transfers/inter-island flights.
For a longer stay in Seychelles, why not choose one of our 'Cruise & Stay' packages? We can tailor a stay at any Seychelles hotel.
Important notes about your cruise
Rates include:
• Accommodation in air-conditioned cabin with private bathroom (a/c in service 8am-10pm). Cruise welcomes children 12 years of age and over
• Full Board (breakfast, lunch & dinner
• Service of 3 crew (Captain, steward/cook, deck-hand)
• 1 set of linen, towels and beach towels per person per week
• Water sports on board (snorkelling equipment & sea kayaks)
• Consumable for the yacht (diesel, fuel & water) and insurance for yacht & passengers
Rates do NOT include:
• Beverages (soft drinks or alcoholic)
• Mandatory 'cash box' (see below)
Cash box details (mandatory): £119 per person, payable in cash on boarding
• National Park & Conservation fees
• Tourist taxes & island landing fees
• Mooring fees
Special Offers
Loyalty Discount
5% on all Dream Yacht Cabin Cruises for clients who have been on a DYC cruise within the past 24 months before the date of booking of the new cruise.

Early Booking Discount
10% for bookings made at least 180 days prior to departure date or 5% for bookings made at least 90 days prior to departure date.
Only loyalty and early booking discounts are cumulative and can apply to the Family Policy.

Honeymoon & Wedding Anniversary Offer
50% for the bride, valid from 5/07/2017 to 14/08/2017.
Anniversary offer is valid for every 5th year anniversary.
'Cruise & Stay' Packages
Why not arrive early in Seychelles, or extend your stay after your cruise? We offer the widest choice of hotels in Seychelles - from luxury resorts to boutique small hotels on all the main islands. See a few of our suggested hotels for 'Cruise & Stay' packages on Mahé & Praslin or else talk to our experienced team and let them tailor-make the whole itinerary for you.